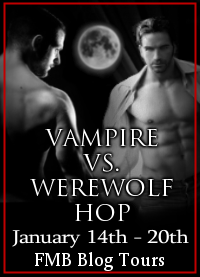 It's time for the Vampire Vs Werewolf Giveaway Hop hosted by FMB Author Promotions. The hop runs from January 14th until 20th, and my giveaway is international.
Because the theme of the hop is vampires versus werewolves, I couldn't resist offering prizes involving these two species in a romantic relationship! I have two very wicked vampire / werewolf romances on offer in this giveaway hop. The first, Crave, is from my Vampire Erotic Theatre series and sees vampire Callum hungering after sassy werewolf Kristina. The second, Hunter's Moon, is from my Vampires Realm series, and sees ex-alpha werewolf Nicolae battling his feelings for injured vampire Tatyana in the remote Canadian wilderness.
PRIZES
1 x Ebook copy of Crave by Felicity Heaton.
1 x Ebook copy of Hunter's Moon by F E Heaton.
HOW TO ENTER
Subscribe to my mailing list using the form below
Fill in the Rafflecopter form.
Leave your name and email address in a comment.
If you want to do the extra entries, feel free to do them!
ENTER NOW
Sign up to my mailing list
If you're doing the blog subscription bonus entry, sign up here:
VISIT THE OTHER BLOGS IN THE HOP